Disavowing Low High quality Hyperlinks, Google's Conversational Search and Extra search engine marketing Q&A – Ep. 161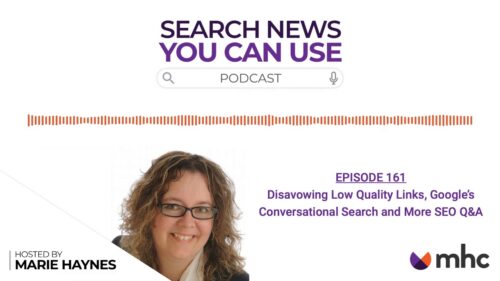 In this episode of the Search News You Can Use Podcast, Marie Haynes covers:
SERP Turbulence in November and December
Using Ahrefs (or GSC) to find ways to get links that will help improve E-A-T
Google's conversational updates to search will mess with keyword research
Theorizing why Google may be taking longer to index new content
Should you be disavowing low quality, highly targeted Blogspot links if they're in the hundreds or thousands?
Q&A: Is paginated content duplicate content in Google's eyes?
Also in the newsletter this week:
Say Goodbye to Google's AI created AMP stories
Comparing GSC crawl data to log files – there are discrepancies
John Mueller clarifies how to interpret the indexing crawler information within Google Search Console
Does the image crawler work separately from smartphone and/or desktop crawler?
Why does Google surface old text for a page in Search? Interesting stuff on ghosted links.
More from Google on best use of anchor text in links
Does Google "normalize"/translate content to one language in order to index it?
Google comments on the indexing process, but not everyone feels the same way
Local SEO: How to create kick-ass local content
This episode corresponds with newsletter episode 161:
https://www.mariehaynes.com/newsletter/episode-161-light-version/
Submit a question for the next Q&A: https://Mariehaynes.com/qa-with-mhc/
Subscribe to the newsletter: https://Mariehaynes.com/newsletter
Twitter: @Marie_Haynes – https://Twitter.com/Marie_Haynes
Need help removing a manual action? Check out this e-book:
https://www.mariehaynes.com/product/unnatural-links-book/

source